Joined

Nov 22, 2014
Messages

200
Δινω προς ανταλλαγη το κατωθι ρετρο hi-end κασετοφωνο, κατα προτιμηση με Amiga 1200 + PSU + mouse.
Bang & Olufsen Beocord 5000 (1984-1987)
Designed by: Jacob Jensen
Finish: Aluminium / Dark Grey
Compact Cassette: C46-C60-C90-C120
Tape head: M&X
Recording system: HX PRO
Noise reduction system: Dolby B and C
Tape switch: Automatic ferro/chrom/metal
Wow and flutter: < +/- 0.13%
Speed deviation: < +/- 1.5%
Fast forward and rewind: 100 sec.
Frequency range chrome: 30 - 18,000 Hz +/- 3dB
Signal-to-noise ratio: > 56 dB TDK Metal Dolby NR
Power supply: 4921 220V
Power consumption: Max. 35 W
Dimensions WxHxD: 42 x 7.5 x 32.5 cm
Weight: 8.35 kg
Περισσοτερες πληροφοριες
Φωτο απο το δικο μου, κλικ για μεγαλυτερες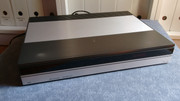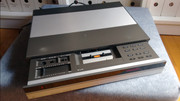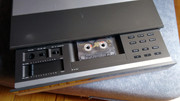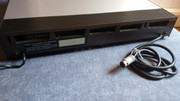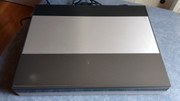 Και βιντεακι με το μηχανημα σε λειτουργια
SendVid
Το κασετοφωνο αγοραστηκε τα καλα χρονια (προ κρισης) απο Ολλανδια για συλλογη και δεν το εχω δουλεψει ποτε, θεωρω ομως οτι βρισκεται σε πληρη λειτουργια. Οπως μπορειτε να δειτε στο βιντεο το ηλεκτρικο πορτακι ανοιγοκλεινει ομαλα, η κασετα γυριζει και τα VU-meters λειτουργουν. Δεν εχω τεσταρει τον ηχο, γιατι δεν ασχοληθηκα ποτε να βρω ανταπτορα απο 7-pin DIN σε RCA, κατι σαν
αυτο
δηλαδη αλλα με θηλυκο βυσμα.
Εμφανισιακα σε πολυ καλη κατασταση, απολυτως καθαρο, με καποιες γρατζουνιες στο επανω μερος.
Οπως ειπα, θα ηθελα ανταλλαγη με Amiga 1200 + PSU + mouse, αλλα ειμαι ανοιχτος και σε αλλες προτασεις.
Προτιμω ανταλλαγη με κατοικο Αθηνας, συναντηση σε οικιακο χωρο και δοκιμη των μηχανηματων.
Αν βρεθει ανταπτορας DIN σε RCA, φυσικα τεσταρουμε και τον ηχο.
Αν ενδιαφερεται καποιος απο τους γνωστους Σαλονικιους
δεκτή και η αμοιβαια αποστολη των μηχανηματων.