Commodore Vampire
Staff member
Joined

Oct 21, 2012
Messages

7,232
Η πολύ μεγάλη επιτυχία της τηλεοπτικής σειράς
Battlestar Galactica
που προβάλλονταν γύρω στα τέλη το '70 δεν άφησε κανέναν ασυγκίνητο, ούτε καν την μεγάλη κυρία, που εκείνη την εποχή γνώριζε την μια επιτυχία, μετά την άλλη.
Αρχές του '80 λοιπόν και τα laserdisk games (βλ.
Dragon's Lair
), είχαν κάνει αισθητή την παρουσία τους μέσα στις Αμερικάνικες κυρίως αίθουσες arcade. Η ζωντάνια των cartoon γραφικών, ο ήχος και η τεράστια αποθηκευτική ικανότητα του οπτικού δίσκου συγκέντρωνε το ενδιαφέρον παικτών και εταιρειών, με τις τελευταίες να έχουν μπει για τα καλά στην κούρσα που ξεκίνησε η
Cinematronics
και να παρουσιάζουν τις δικές τους προτάσεις.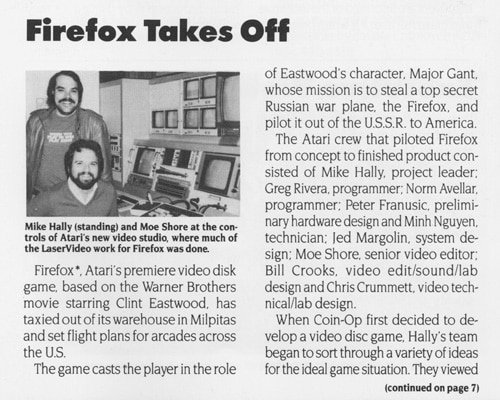 Η μεγάλη
Atari
δεν έμεινε φυσικά αμέτοχη, με χαρακτηριστικό εκπρόσωπο το
FireFox
που κυκλοφόρησε το 1984.
Το
FireFox
πήγε αρκετά καλά και έτσι η
Atari
είχε στα χέρια της μια έτοιμη πλατφόρμα πλοήγησης εικονικού αεροσκάφους πρώτου προσώπου. Δεν χρειαζόταν τίποτα άλλο παρά ελάχιστες μετατροπές ώστε να μεταμορφωθεί σε διαστημόπλοιο του
Battlestar Galactica
, κατατροπώνοντας τους Cylones, κερδίζοντας λίγη από την δόξα της δημοφιλούς σειράς.
Ο άνθρωπος που ανέλαβε να επιμεληθεί την μετατροπή ήταν ο
Owen Rubin
, έμπειρος και γνωστός για την ποιοτική εργασία του, σε προηγούμενα παιχνίδια της
Atari
που είχαν γνωρίσει μεγάλες δόξες...
Battlezone
,
Space Duel
και
Major Havoc...
Ας δούμε λοιπόν τι μας λέει ο ίδιος μέσω της ανάρτησης του στο facebook :
"With Galactica, it was my idea originally as I was a Galactica fan obviously, (those are Cylon ships in Major Havoc, and the graphics displays in the tactical display were drawn like in Galactica as well), the guys who did Star Wars and Firefox started the project. I did a small amount of work as well. All that was really done was some footage on the laserdisc that let you land a fighter ship into one of the landing bays on either side of the large ship.
The video on the disc is recorded in such a way that playing it back would look like garbage. It is a bunch of still frames that you play out of order so that you can change what you are playing seamlessly. For example, the landing footage is one of 9 to 16 or so frames from different positions as you approach the landing bay. Imaging a 3×3 of 4×4 grid of possible positions you can approach from, with the center being straight on. If you fly straight, the program would display every 9th frame which was the video of flying straight.
If you moved right, you would select the proper "frame view" and it would look like you moved in the video to the right, and now play every 9th "right position 1″ video frame in order. With this scheme, you could fly in 2 dimensions with the joystick while the game pushed you forward in the third as well, controlled by a throttle...."

Δυστυχώς το παιχνίδι παρέμεινε στα χαρτιά και δεν κυκλοφόρησε ποτέ...
Πηγή:
http://www.retroist.com/2017/02/12/atari-battlestar-galactica-laserdisc/
Last edited: