Commodore Vampire
Staff member
Comrade
Joined

Oct 21, 2012
Messages

7,375
Ένα καινούργιο ισχυρό εργαλείο, για τους προγραμματιστές (και όχι μόνο) του Commodore 64.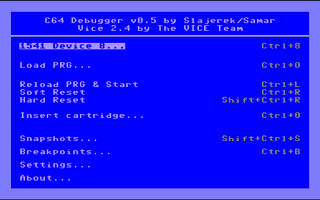 Submitted by Slajerek on 4 June 2016 / @ csdb.dk

Hello dear Commodore 64 hackers!

I'm proud to present a brand new tool called C64 Debugger. This is Commodore 64 and 1541 Drive code and memory debugger that works in real time. It is for quick prototyping on Commodore 64 machine and its internals. C64 Debugger embeds VICE v2.4 C64SC emulation engine created by The VICE Team. This is a standalone binary and no VICE files are needed to run this.

I've been working on this over last weekends and I think finally it is mature enough to be released to the public for the first time.

I hope that you will have a nice fun. Enjoy!
Credits :
Code
Slajerek
of
Samar Productions
Test
Don Kichote
of Avatar, Caution, Samar Productions
ElfKaa
of Avatar
Isildur
of Samar Productions
Mr Wegi
of Elysium
Download / Link:
https://sourceforge.net/projects/c64-debugger/
http://csdb.dk/release/?id=148664