Commodore Vampire
Staff member
Comrade
Joined

Oct 21, 2012
Messages

7,375
Ο
DivIDEo
είναι ένας video encoder και ταυτόχρονα player για όλους τους Speccyδες εξοπλισμένους με 128K και
DivIDE interface
.
Χαρακτηριστικά:
25fps full-screen video
Double-buffering using the 128K Spectrum's second screen, to avoid flicker
Delta compression; only the screen data that changes between frames is stored, reducing file size and (more importantly) transfer time
Variable bitrate AY chip audio; all CPU time remaining after handling the video data is devoted to sample playback
No need for crazy disk partitioning schemes - videos will be recognised on any filesystem that stores files in consecutive sectors with no gaps (including FAT, as long as files don't become fragmented...)
Δεν ξέρω, αλλά τουλάχιστον εγώ ως λάτρης όλων αυτών των μοντέρνων gadgets, μπορώ να πω ότι εντυπωσιάστηκα.
Τελικά τα plugins και το development έχει προχωρήσει πολύ για αυτό το μαραφέτι. Μάλλον ήρθε η ώρα να βγάλω τον σχετικό εξοπλισμό μου από την ναφθαλίνη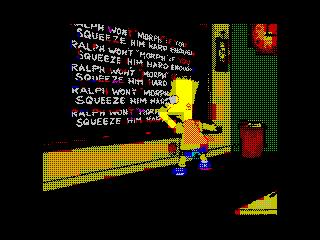 Περισσότερες πληροφορίες εδώ:
http://divideo.zxdemo.org/
Αν κάποιος γνωρίζει σχετικά και έχει ανάλογη πρακτική εμπειρία, ας ενημερώσει ...