πριν τα βάλω στο ebay , είπα να τα βάλω εδώ μήπως ενδιαφέρεται κάποιος από εσάς εδώ παιδιά...
λοιπόν τα εξαρτήματα είναι από παλιό server τις εταιρίας μου....
Western Digital Scorpio Blue 160 GB,Internal,5400 RPM, (WD1600BEVT)

2 X
NEC 32x SCSI-50PIN CD-ROM DRIVE CDR-1910A 50 PIN INTERNAL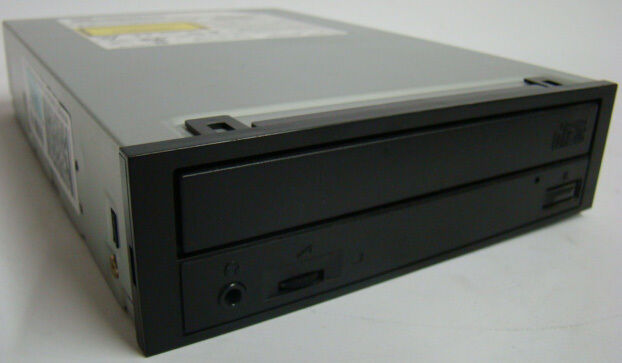 Adaptec SCSI RAID 2100S
This 32-bit PCI single-channel Ultra160 SCSI RAID Controller is designed for entry-level SCSI servers on both conventional and rackmount platforms. Delivers data rates of up to 160 MB per second. Ships with a 32 MB cache module (expandable to 128 MB). Provides one internal 68-pin high-density connector and one external 68-pin VHDCI connector, allowing for the connection of up to fifteen SCSI devices. RAID Levels 0, 1, 0/1, 5, and 0/5 are supported.
2 x
Eiconcard s94 800-287
The Eiconcard S Series are intelligent multi-protocol wide-area network (WAN) interface card for PCI/PCIe bus based servers. The Eiconcard S Series of WAN interface cards are targeted for branch office LAN application servers. They offer a Very High Speed Interface (VHSI) port and an ISDN BRI port, supporting line speeds of up to 2 Mbps (T1/E1) and 128 Kbps respectively.
The Eiconcard S Series allows you to connect over a variety of WAN protocols such as X.25, Frame Relay, PPP, SDLC and HDLC, over leased lines, dial-up lines or ISDN lines. It offloads the server from low level protocol processing tasks, resulting in a saving of valuable server CPU resources.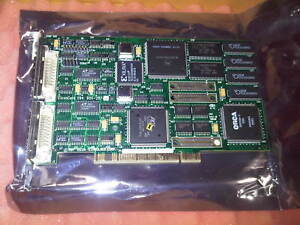 C1537 HP OEM DAT24i 4mm DDS-3 12/24GB DAT OEM White Internal SE SCSI Tape Drive
The HP OEM DAT 24 tape drive provides a dependable, entry-level solution for data protection in small servers and workstations. With its economical price, the DAT 24 provides outstanding value in a wide range of servers. This DDS-3 drive has a compressed capacity of 24 GB and a transfer speed of 7.2 GB/hr (assuming 2:1 data compression).

Native Capacity: 12GB
Compressed Capacity: 24GB
Buffer Size: 2MB
Sustained Transfer Rate (Native): 1MB/s
Sustained Transfer Rate (With 2:1 Data Compression): 2MB/s
MTBF: 300,000 Hours at 12% duty cycle
SCSI Interface: Narrow SCSI-2, LVD/SE
Automated Head Cleaning: HP DDS drives benefit from an automatic head cleaning "sweeper" that can be used during the write or read recovery procedure to dislodge debris from the tape path and recording heads and drive. This feature reduces the need to use a DDS cleaning cartridge for manual cleaning.

Compression: DDS uses built-in hardware compression using the 'DCLZ' data compression algorithm. Data compression is host-selectable with the default that compression is turned on. Typical data compression is 2:1, but actual compression depends on the type of data being compressed and can be more or less than 2:1.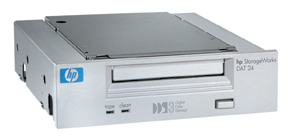 Sony SDT-9000 12/24GB SCSI 4mm Tape Drive
Sony DAT, SDT-9000 (DDS3, 12/24GB, SCSI SE,) Sony SDT9000 Tape Backup Drive 24GB compressed capacity and a compressed transfer rate of 7.2 GB/hr Reads and writes DDS-1,DDS-2 and DDS-3 media.

Specifications
Capacity 12 GB native, 24 GB compressed
Recording Format... ANSI / ISO / ECMA DDS-2 and DDS-3
Transfer Rate 1.2MB/sec. native, 2.4 MB/sec. compressed
Interface 50 Pin Single-ended narrow SCSI-2
Media 4mm DDS-3
4 X
Infineon HYS72V32120WR-8-B 256MB 100MHZ CL2 ECC REG

επίσης καμια 50αριά μνήμες από όλα τα είδη....από 32mb , 128mb , 256 , 512 , 1gb , καθώς μνήμες και για laptop
τιμές δεν βάζω γιατί εδώ είμαστε μια παρέα και θα τα βρούμε έτσι και αλλιώς!
* σκληρούς δίσκους SCSI έχω 3 , αλλα τους έχω κρατήσει για τον Νίκο (nkary) *